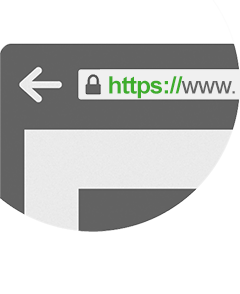 DV (Domain Validation) SSL Certificates
DV SSL certificates are the world's best selling SSL certificates, preferred by those who do not want to deal with personal sites, non-commercial projects and the document process. Because it is cheap, those who want to use SSL for SEO also buy DV SSL certificates.
Comodo Positive SSL and Rapid SSL, the world's cheapest SSL certificates, are well-known certificates in this category.
Insurance amounts for domain validation type SSL certificates are in the range of $ 10,000 to $500,000.

In DV SSL certificates, the approval process is done in 3 ways:
- With the confirmation from the link in the email sent to the owner of the domain according to whois query result,
- By uploading the downloaded verification file via FTP,
- Or, by adding a TXT type CNAME zone via DNS.
After you verify that the website you want to install SSL is owned by any of these methods, your certificate in CRT format is generated and sent to your e-mail address.